You spin me right round
In the early 1920s a young German PhD student called Ernst Ising developed a mathematical model to explain ferromagnetism. Though his work quickly faded into obscurity, it was later rediscovered and ended up revolutionising the field of theoretical physics. However by this time, Ising had long left academia to pursue an engineering career in America and had no idea that his name and eponymous model had become famous in the physics community.
The Ising model attempts to explain how magnetic order can be achieved in a material - that is, how atoms in a material come to mutually align their spins in order to form a magnet. His model assumes that each atom will have a magnetic spin, σ, that can be in one of two states: spin-up or spin-down. For a spin-up atom, σ=1 and for a spin-down atom, σ=-1. Two neighbouring magnetic dipoles contribute an energy -J when their spins align and an energy +J when their spins anti-align. On top of this, each atom feels a local magnetic field, h, which either increases or decreases its energy depending on the spin. The total energy of the system is found by adding up the contributions from each nearest neighbour pair.
Unfortunately this model almost completely fails at explaining how ferromagnetism works! The model is quite tricky to solve for a 1D crystal and fiendishly difficult for the 2D case. To this day, no one has managed to solve it for a 3D system. What it does offer, however is a very rich analytical toolkit which helps us understand a variety of nearest-neighbour interaction systems including (amongst others) particles in a gas, neural computation and bird flocking.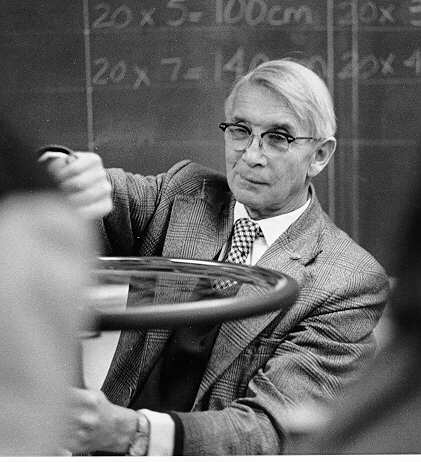 It was only much later in his life that Ising found out how famous he had become when he was invited to a physics conference to give a keynote speech. It must have been a great surprise to him to turn up and find that his PhD work had become a gospel for statistical mechanics. He became a professor of physics (though never published again) and died aged 98 at his home.
(Top photo source)