If anyone wants to see a quick and direct proof of one of the most fundamental laws of the universe then they should look no further than to a chunk of rubber.
Though at first glance it might seem like elastic bands behave much like springs, and when you stretch them you store potential energy, actually no potential energy is stored in them at all! All the energy you put in is turned to heat.
So why is it that when you stretch a piece of rubber, you feel it exert a force; and when you release it, it gains enough kinetic energy to fly across the room? The answer: entropy. Or rather, the second law of thermodynamics which states that the entropy of the universe must always increase.
I've previously talked about how the entropy of a system is related to the number of ways of arranging the components of that system. That relates to this.
Rubber is made of polymers which are long chain-like molecules. They're small enough that random thermal fluctuations heavily influence their shape and motion. In their relaxed state, they tangle more or less into a ball. It is possible to stretch them out, but they will want to relax back to how they were. This isn't primarily to do with inter-atomic bonds but rather the number of ways of arranging the segments.
Here are a few frames from a simulation I made of a stretched polymer with ends tethered close together (top) and far apart (bottom).
It may or may not seem obvious that if you were to count the total number of ways the polymer could arrange itself, this number would be much greater for the stretched (top) polymer. This directly means that the stretched polymer has a lower entropy, or it is more ordered.
A rubber band is made up of trillions and trillions of these, and in its relaxed state it is at a maximum entropy. When you stretch it you are lowering its entropy (though your muscles are increasing the entropy of the universe to compensate!) and so the force you feel is the cumulative force of all the polymers 'wanting' to increase their entropy and relax. You are feeling the 2nd law of thermodynamics at work!
I find this concept amazing. We're quite used to seeing the second law around us, when we see buildings get run down, milk mix with tea, etc.; but these all seem passive. They seem to happen because nothing is stopping them from happening. But in the case of an elastic band, it seems very active indeed! Entropy is forcing you to release and relax the band, and it will fly across the room or even fracture in order to achieve this.
Entropy is also the cause of many an unplanned pregnancy - the fracture of a condom is a prime example of rubber trying to maximise its entropy!
(photo adapted from sixeightthree)
You spin me right round
In the early 1920s a young German PhD student called Ernst Ising developed a mathematical model to explain ferromagnetism. Though his work quickly faded into obscurity, it was later rediscovered and ended up revolutionising the field of theoretical physics. However by this time, Ising had long left academia to pursue an engineering career in America and had no idea that his name and eponymous model had become famous in the physics community.
The Ising model attempts to explain how magnetic order can be achieved in a material - that is, how atoms in a material come to mutually align their spins in order to form a magnet. His model assumes that each atom will have a magnetic spin, σ, that can be in one of two states: spin-up or spin-down. For a spin-up atom, σ=1 and for a spin-down atom, σ=-1. Two neighbouring magnetic dipoles contribute an energy -J when their spins align and an energy +J when their spins anti-align. On top of this, each atom feels a local magnetic field, h, which either increases or decreases its energy depending on the spin. The total energy of the system is found by adding up the contributions from each nearest neighbour pair.
Unfortunately this model almost completely fails at explaining how ferromagnetism works! The model is quite tricky to solve for a 1D crystal and fiendishly difficult for the 2D case. To this day, no one has managed to solve it for a 3D system. What it does offer, however is a very rich analytical toolkit which helps us understand a variety of nearest-neighbour interaction systems including (amongst others) particles in a gas, neural computation and bird flocking.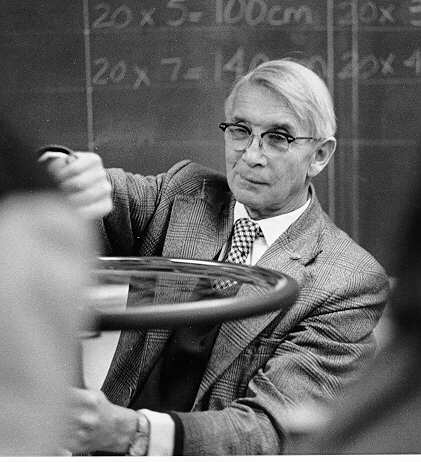 It was only much later in his life that Ising found out how famous he had become when he was invited to a physics conference to give a keynote speech. It must have been a great surprise to him to turn up and find that his PhD work had become a gospel for statistical mechanics. He became a professor of physics (though never published again) and died aged 98 at his home.
(Top photo source)
On the 5th of September 1906, while his family were taking an afternoon walk, the scientist and mathematician Ludwig Boltzmann hanged himself. Inscribed on his tombstone is this equation which marks his tremendous contribution to 20th century physics. His theories were well ahead of their time and were largely rejected by his contemporaries. Unfortunately he never lived to see the true impact of his work.
This is this Boltzmann Entropy Formula and it is one of the most fundamental equations in modern physics. It provides a theoretical basis for the 2nd Law of Thermodynamics – that the entropy (or disorder) of the universe is always increasing. It is a direct consequence of this that buildings decay and become decrepit when abandoned; that wine glasses shatter into shards of glass; and that the universe will one day evaporate into heat.
If you put ten coins in a row on a desk, there is only one way you can arrange them so they all show heads. In this case we would say the coins are well ordered (or in thermo language, have a low entropy). On the other hand, there are a couple of hundred ways of arranging the coins such that half of them are heads and half are tails, where we would say they were disordered.
Boltzmann formulated this relationship between S (the entropy), and W which counts the number of ways of microscopically arranging a system to give it the same overall state.
Though there are only 252 ways you can achieve full disorder with 10 coins, imagine a beaker of water and ink containing billions of billions (of billions) of molecules. When all the ink molecules are arranged together as a drop, the system is well ordered. However the number of ways of arranging all the molecules to be well mixed is astronomically larger! It is this reason, coupled with the law that entropy must always increase over time, that a drop of ink will dissipate and mix when placed in a beaker of water.
It is strangely appropriate that this equation appears on the tombstone of its creator as it acts as a constant reminder that everything dies, decays, and turns to dust.
(photo credit: illpadrino)